Extras
The links below will take you to extra information about the novel, the characters, the setting, and other fun tidbits. Please note that all of them may contain potential spoilers, although I try to keep that to a minimum. Proceed at your own risk if you are spoiler-sensitive!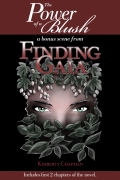 The Power of a Blush
Special bonus extended scene
plus the first two chapters of the novel,
free at
Smashwords
or
Goodreads
!
SketchUp Drawings and Files of the Truitt Mansion - Take a virtual walk through a rough representation of one of the main settings of the story.

Soundtrack - Listen to the music I associate with various scenes and sections of the book.

Character Dossiers

EcoSnark - Read Trish's blog of environmental fury with copious swearing. She formerly ran a Gaia Global Blog but Jason decided she was pushing too many boundaries with it. You can interact with Trish personally on Twitter or Google+ but please be aware that she exists in the current time and won't understand if you confront her with details from the novel before they have happened.

Videos/Hangouts - I've had requests to do Google+ Hangouts for readings and discussions, so be sure to ask to join my Google+ notification circle if you want to be in on those. Links to completed hangout videos will be posted here by date.

Cover Art - Details about and larger versions of the cover art.

More! More! More! - Based on test reader input, a series of prequels about Jason's history is now in the works. To be informed when those become available, follow me on any of the social media links in the sidebar or ask to join my Google+ notification circle.